Fix ALL Cash Giveaway
Our biggest-ever end-user promotion has officially landed. Starting this summer, our latest Fix ALL promotion gives end users the chance to win up to £20,000. There are 8 incredible cash prizes up for grabs: 1x 20,000, 1x 10,000, 1x 5,000 and five chances to win £1000 prizes.
To be in with a chance of winning, end-users can enter online using a unique code found on the rear of every Fix ALL High Tack, Crystal and Turbo Triple Pack. Promotional single packs can also be found in exclusive retailers, meaning everyone can get involved, no matter the project size!
When will the prize be announced?
The prize draw will take place in April 2024, with the lucky winners announced shortly afterwards. All prizes will be awarded to the winners at the location of the winning purchase. For full terms and conditions visit the competition website: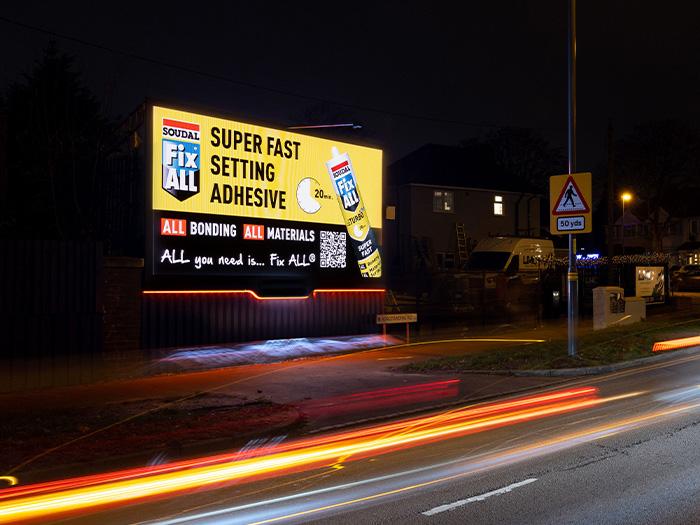 Marketing Support
A nationwide advertising campaign will boost awareness of the Fix ALL brand, with Soudal's first ever TV Advert aired across Sky Channels & Eurosport. Keep an eye out for our mass outdoor media campaign, with digital screens and billboards up and down the UK. Fix ALL will also be promoted pitchside during both Championship and Premier League football matches, as well as much more across different social media networks.
Distributers can benefit from a range of complimentary point-of-sale (POS) material to drive excitement in-store, with top-notch display stands to showcase the Fix ALL Triple Packs and capture the attention of their customers.