Last week in Turnhout, the first column for Soudal Plant 5 was ceremonially placed. This new, hyper-modern production site will produce adhesives and sealants from 2023 onwards. Plant 5, will support the further growth ambitions for Soudal, increasing production capacity, as well as providing additional employment opportunities in the region. A stones throw from Soudal Headquarters in Belgium, it is a considerable extension to the Soudal estate on Everdongenlaan.
Soudal places first column of the factory of the future
Naessens Industriebouw and Vanhout are responsible for undertaking the construction of our ultra-modern, fully automatic production site covering 20,000 m² on the almost 5-hectare site. Soudal is a 100% family business and Chairman-Founder Vic Swerts placed the first column together with his youngest grandson, Andreas. In doing this together, the young and not-so-young symbolized the Soudal slogan, "BUILD THE FUTURE".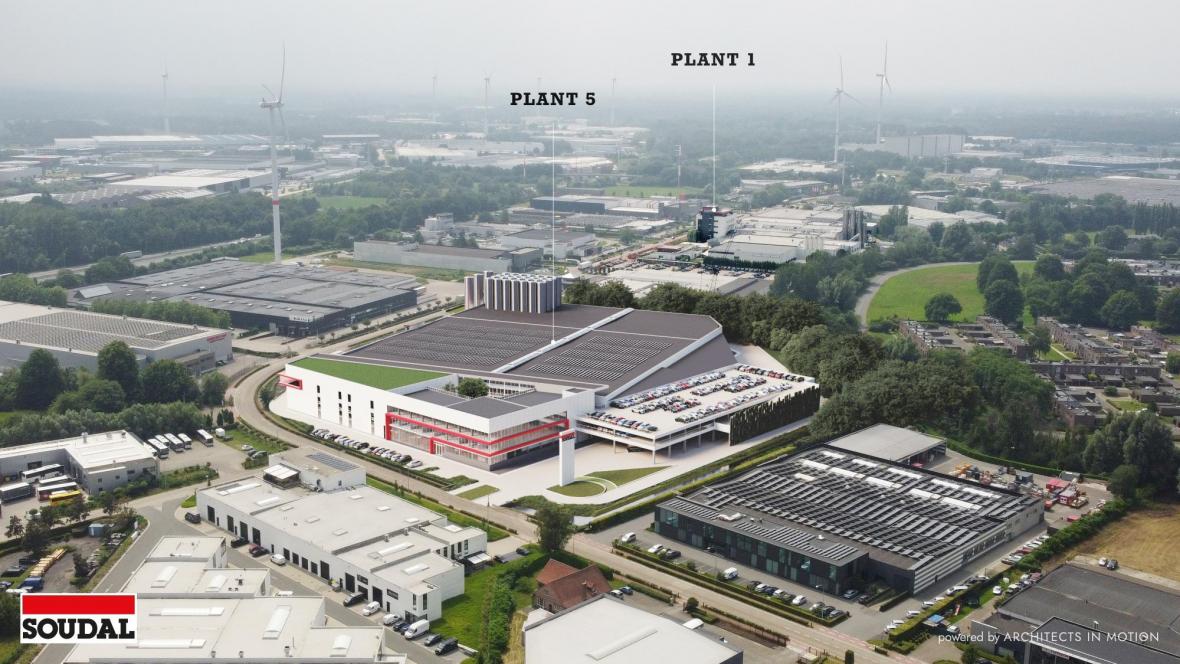 BUILD THE FUTURE
Dirk Coorevits, Managing Director of Soudal, earlier this year elected as Trends Manager of the Year: "Our slogan, 'BUILD THE FUTURE' can be taken literally. We currently have construction projects underway at 12 of our 23 production sites, worldwide. These mainly involve investments in additional production and storage capacity. Among these, Plant 5 is definitely the project that stands out, in terms of investment, ambition, and innovation. In this factory of the future, large quantities of mastics will be mixed and filled in an almost fully automatic process. Extensive automation will mean even less waste and less energy consumption. We have been making environmentally friendly systems for decades. And we now also want to extend our green philosophy to our infrastructure. With a BREEAM score of 'outstanding', Plant 5 will serve as an example for the numerous other plants that Soudal will undoubtedly build throughout the world in the future."
Due to many years of continuous growth, averaging more than 10% per year, the doubling of production capacity at the Everdongenlaan site is a welcomed prospect. In the first phase of the new site's operation, it will produce hybrid mastics, such as Fix ALL. Plant 5 represents an investment of 40 million euros, further affirming Soudal's deep roots in the Kempen region. In addition, employment in Soudal's Turnhout branches, which currently already exceeds 1,100 employees, will also benefit.