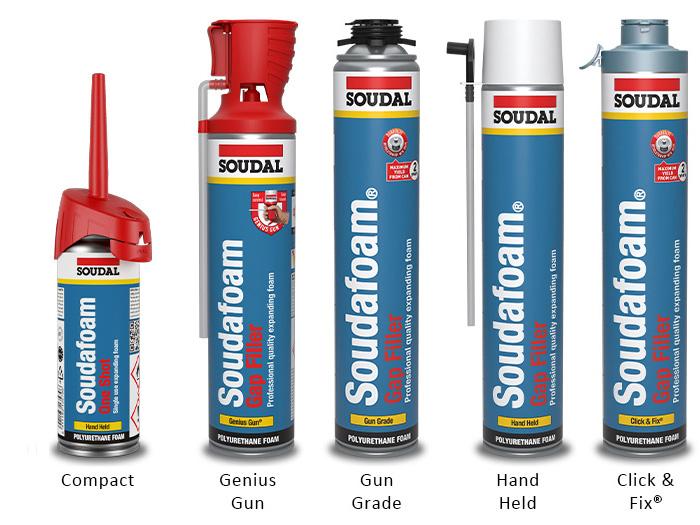 Soudafoam Gap Filling Expanding Foam
Soudal is the world's largest independent manufacturer of polyurethane foam, with Soudafoam our leading professional brand of expanding foam products. Incorporating many patented applicator technologies and professional application-specific formulations, the range is available in multiple pack formats. Our patented GENIUS GUN® hand held applicator system is designed for ease of use, maximum control and re-useability for up to 6 weeks after first use. CLICK & FIX®, a safe and fast alternative to traditional gun-applied foam. COMPACT, a small format single-use applicator system designed for quick and easy application.
The WINDOW & DOOR formulation focuses on high linear yield (more meters) with high thermal and acoustic properties developed specifically for window and door filling and sealing. The range includes WINDOW & DOOR XTRA which has an even greater linear yield (50% more metres than standard) and WINDOW & DOOR SWS which uses our patented FLEXIFOAM® technology to achieve the best thermal, acoustic and noise insulation properties. The GAP FILLER formula is designed for high volume expansion, with high thermal and acoustic properties perfect for filling large gaps and cavities.
Duravalve
DuraValve is a unique valve system that improves the yield and performance of Soudafoam products. The advanced valve solution ensures the cannister retains the same yield over a much longer time period than standard valves. DuraValve puts an end to poor yield and non-extrusion of PU Foam and is a standard feature for all our gun applied products.
FEICA
SOUDAL are a member of FEICA, the Association of the European Adhesive & Sealant Industry. FEICA members manufacture more than 90% of all one-component foams in the European market. Members work together to develop standards and professionalise the industry. We are active within the FEICA Technical Working Group and a significant achievement has been the development of standardised test methods.
These methods allow the performance of foam products to be measured and compared for the first time. We are signatories of the Manufacturer's Declaration of Intent, which commits us to best practice and to the use of these FEICA Test Methods.
Use our Soudafoam Product Selector tool to find the best gap-filling foam for your chosen application!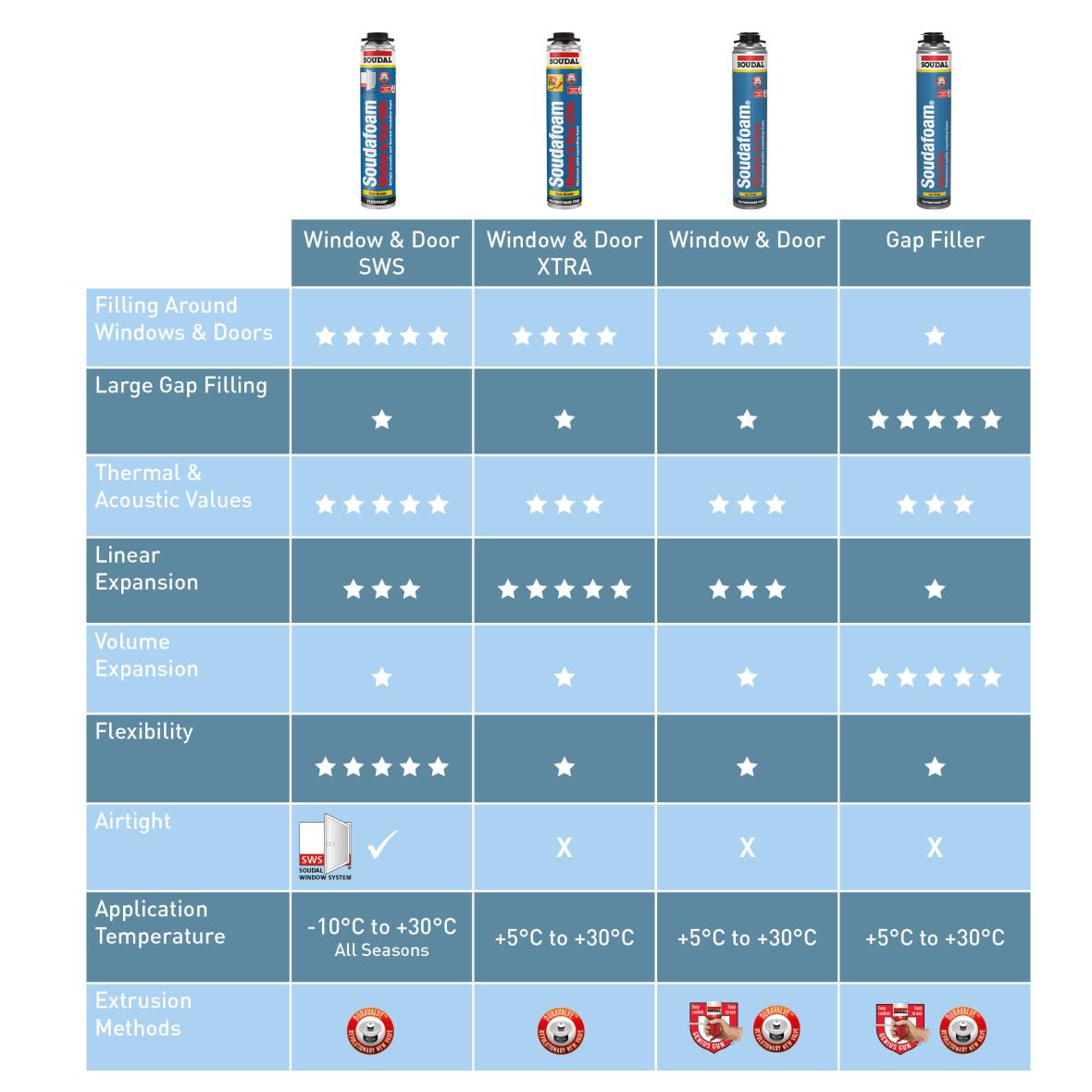 Soudafoam One Shot
One Shot Polyurethane expanding foam is ideal for minor repairs and gap-filling. The small packaging option is lightweight, providing high-volume expansion and excellent thermal and acoustic properties.
• Polyurethane foam filler 
• Volume yield FEICA TM1003 - 150ml Hand Held: 5L
• Acoustic rating ISO 717-1: 58 dB
• Thermal conductivity DIN 52612: 37mW/mK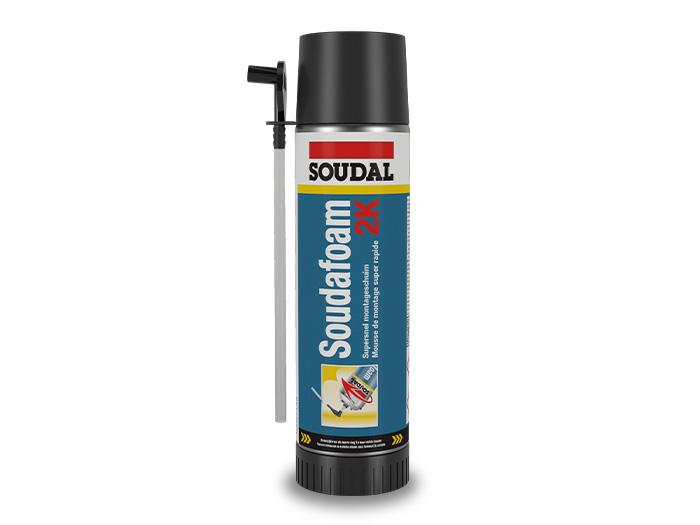 Soudafoam 2K Express
Extra fast-curing polyurethane foam filler. Accelerated curing speed (approximately 20 minutes) due to the two-component system. Excellent thermal and acoustic insulation properties. Primerless adhesion on most construction materials. Cures without atmospheric moisture.
• 2 component polyurethane foam filler 
• 20-minute curing time
• Cures without moisture
Soudafoam SMX
SMX® Polymer expanding foam is a more environmentally friendly choice, easy to use and isocyanate free. Excellent thermal and acoustic insulation properties. Primerless adhesion on most construction materials.
• SMX® polymer foam filler
• Isocyanate free
• More environmentally friendly
FIRE-RATED PU EXPANDING FOAM
Soudafoam FR HY is a fire rated expanding polyurethane foam filler, with fire resistance up to 4 hours depending on configuration. Click here to find out more about the Fire Range.