Soudal is giving you the chance to win £1000 store credit when you switch to Genius Gun Plasterboard Adhesive Foam. The promotion is now live across participating Travis Perkins branches throughout the UK, running until the 31st March 2022.
Switch To Genius Gun Plasterboard Adhesive Foam
It's the easier, faster and cleaner method of installing plasterboard panels. A single 750ml can is the equivalent of a 25kg bag of traditional mortar adhesive. This means you can install the same number of plasterboard panels, without all the mixing, mess and wasted product.
Plasterboard Adhesive Foam
The ready-to-use, fast curing PU adhesive foam is specially formulated for the installation of plasterboard panels. With no mixing required, Genius Gun Plasterboard Adhesive is the quick and easy solution for bonding plasterboards directly to masonry and timber battens.
Replaces traditional mortar-based methods
No mixing required
Fast curing
Instructions
Make sure surfaces are clean and free of dust. Lightly spraying water on the surfaces will improve adhesion and speed up curing. Shake can vigorously for 30 seconds and repeat regularly to maximise yield.
Apply Adhesive about 3cm from edge around the perimeter of the board and fill inside area in a zig-zag pattern. Wait until the foam becomes tacky (usually about 4 minutes depending on conditions) and then press board firmly to wall surface for 30-60 seconds (depending on weight of board). After about 6 to 10 minutes, check for correct seating and adjust with a spirit level if required. Leave to cure for at least 1 hour before applying loads.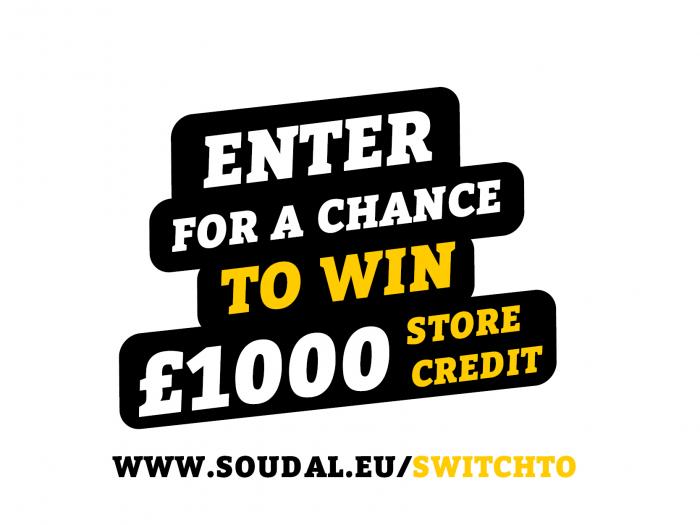 Switch for a chance to win
We have produced 10,000 promotional cans, each equipped with a unique entry code for the prize draw. Simply visit a participating Travis Perkins branch and purchase a can of Genius Gun Plasterboard Adhesive Foam to qualify for an entry into the draw. For full competition details and terms & conditions, please visit: www.soudal.eu/switchto